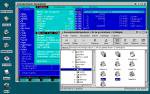 MC
is a Norton Commander clone on Linux and it can do more than I thought. Access remote file systems over ssh !
Did you know that Miguel de Icaza (the gnome, ximian, mono guy) started mc.
start mc
Menu, Right, Shell Link
;-( could not find any commandline switch to activate a remote session.